Japanese Cosmo FaceLifting is based on 28 years of experience of Lone Sorensen working with the face with Facial Reflexology.
Japanese Cosmo is a non invasive, non surgical alternative to a face lift being practiced over the world, very popular in Japan and Europe, and now still in its infancy in Australia.
Japanese Cosmo FaceLifting directly stimulates the meridians, muscles, points, zones and sinew this revoluionary therapy recovers the tone of the face in a very effective way, by a 100% pure and natural treatment. The Japanese Cosmo lifting treatment amongst many things stimulates your lymph
atic system leaving your skin looking fresh and luminous and can provide your whole body with an overall feeling of renewal. The treatment improves blood circulation to your facial tissue help you to eliminate toxins, pigmentation spots and stimulate the production of collagen and elastin promoting cell regeneration and visibly changing the appearance of fine lines and wrinkles.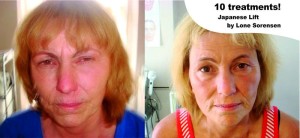 This unique holistic method has its name "CosmoFacial" due to the connection of the human being with the energetic body. This innovative therapy is a complete action over the face skin, which inverts the faces ageing process.
Surgical face lifts and Botox will provide you with similar results, while being invasive, risky and usually unnatural in appearance.
Japanese Cosmo Lifting provides these results over a period of several treatments, leaving you looking years younger naturally. Often some results are noticeable after just one treatment however the lasting results are achieved after a course of treatments over 3 months.  The side affects of the treatments are usually beneficial to minor health disorders and achieve remarkable results all over the face.