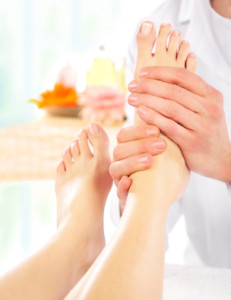 Reflexology is a science that deals with the principle that there are reflex areas in the feet and hands which correspond to all of the glands organs and parts of the body.  Reflexology is a unique method of using the thumb and fingers on these reflex areas.
Reflexology relieves stress and tension, improves nerve and blood supply and helps nature to normalise (bring about homeostasis) and balance. Reflexology may also help to relieve pain and tension.
Stress has a negative affect on insulin and hormone levels.  If you are suffering from type II diabetes or are pre-diabetic, reflexology may help.
There are over 4,200 nerve endings in each foot.
In European countries such as Germany, reflexology is used by some hospitals to assess a persons health before undergoing surgery to avoid  expensive pathology tests. Reflexology has a very long history. In India, a country whose history has largely been shaped by religion, the feet were thought 5000 years ago to symbolize the unity of the entire universe. The Sanskrit symbols depicted on the feet of Buddha were seen as expressions of a higher reality.
Many years of research and experience has shown us that in most cases 6 sessions, in close succession (i.e. over 6 weeks), greatly improves the chances of success. This is not the case for everyone as some cases require less and others more. It does depend on the state of your being and the outcome desired.
For more information, check our FAQs or visit http://www.reflexology-research.com/ or
http://www.reflexologyresearch.net/.
Menu
Advanced reflexology
Initial Treatment: 70mins >
Subsequent: 30min, 45min, 55min, 70min, 85min
Use reflexology to locate problem areas and reduce congestion to specific reflexes and zones corresponding to the specific parts of the body, to restore blood flow and energy, reduce stress and alleviate insomnia for a restful night sleep essential for body repairs.
*Infertility reflexology
Initial Treatment & history: 100mins
Subsequent: 55mins, 70min, 85min, 120min
Lidia has a wealth of experience to enhance fertility and maximise the chances of conception in a very short space of time (when compared to IVF methods) to achieve a healthy bouncing baby.  This new protocol to date has had extraordinary high pregnancy success rate, even when other methods including IVF have failed.
*Express reflexology foot massage
30min  (Not available on Initial visit)
If you are time poor and yet want to feel the many benefits of a reflexology treatment this is perfect for you.  Ideal treatment if you have regular ongoing reflexology but are time poor.  Revitalise tired feet & feel energised.
*Pregnancy reflexology
Initial Treatment: 70mins
Subsequent: 55min, 70min, 85min, 120min
Relax put your feet up and nurture yourself (and baby).  Reflexology may help to you get some much needed sleep,  and relieve those aches and pains in the feet, legs and lower back that is often associated with pregnancy.  Research shows women who have regular reflexology therapy leading up to labour have shorter less stressful labours
Professional Fees
Qualifying as an Advanced practitioner /Diploma in Reflexology in December 2000 Williamstown Reflexology registered with the governing body Reflexology Association of Australia (RAoA).  Our Professional fees are listed in the Book ONLINE services menu, where appointments can also be made.
We also offer a home visiting service in the local area; additional time/travel fees apply.
Health Fund Rebates
* HEALTH REBATES no longer apply due to a group of 600 doctors forced the Federal Government to cease rebates for many therapies including Reflexology, Bowen Therapy, Naturopathy, Homeopathy, Yoga, Western Herbalism, Shiatsu, Alexander Technique, Aromatherapy, Feldenkrais, and Kinesiology.
Most of the above therapies have been around for 5,000 years, others hundreds of years and others decades these therapies have continued on stay because they have worked and are healing diseases and not just managing diseases.  
The removal of rebate came into effect on 1 April 2019 however many natural governing bodies have been working hard to have the private health funds reinstate rebates for services previously covered.
Below is a list of Private Health Funds who were previously offering rebates under their extras cover for Reflexology Treatments. You may wish to contact your Health Fund to let them know you would like them to reinstate the rebate. 
| | | |
| --- | --- | --- |
| HEALTH FUND | Contact No. |  Cease date |
| AHM | 134 246 | 1st April 2019 |
| Aust. Unity Health(also Grand United) | 132 939 | unknown |
| CUA Health | 07 33650022 | unknown |
| Health Partners (SA) | 08 82237588 | unknown |
| Manchester Unity | 131 372 | unknown |
| CBHS Health Fund Ltd | 1300 654123 | unknown |
| NSW Teachers Federation | 1300 728188 | unknown |
| Reserve Bank | 02 95519037 | unknown |
| Medibank Private | 134 190 | 1st April 2019 |
| GMF | 1300 653099 | unknown |
|   |   |   |